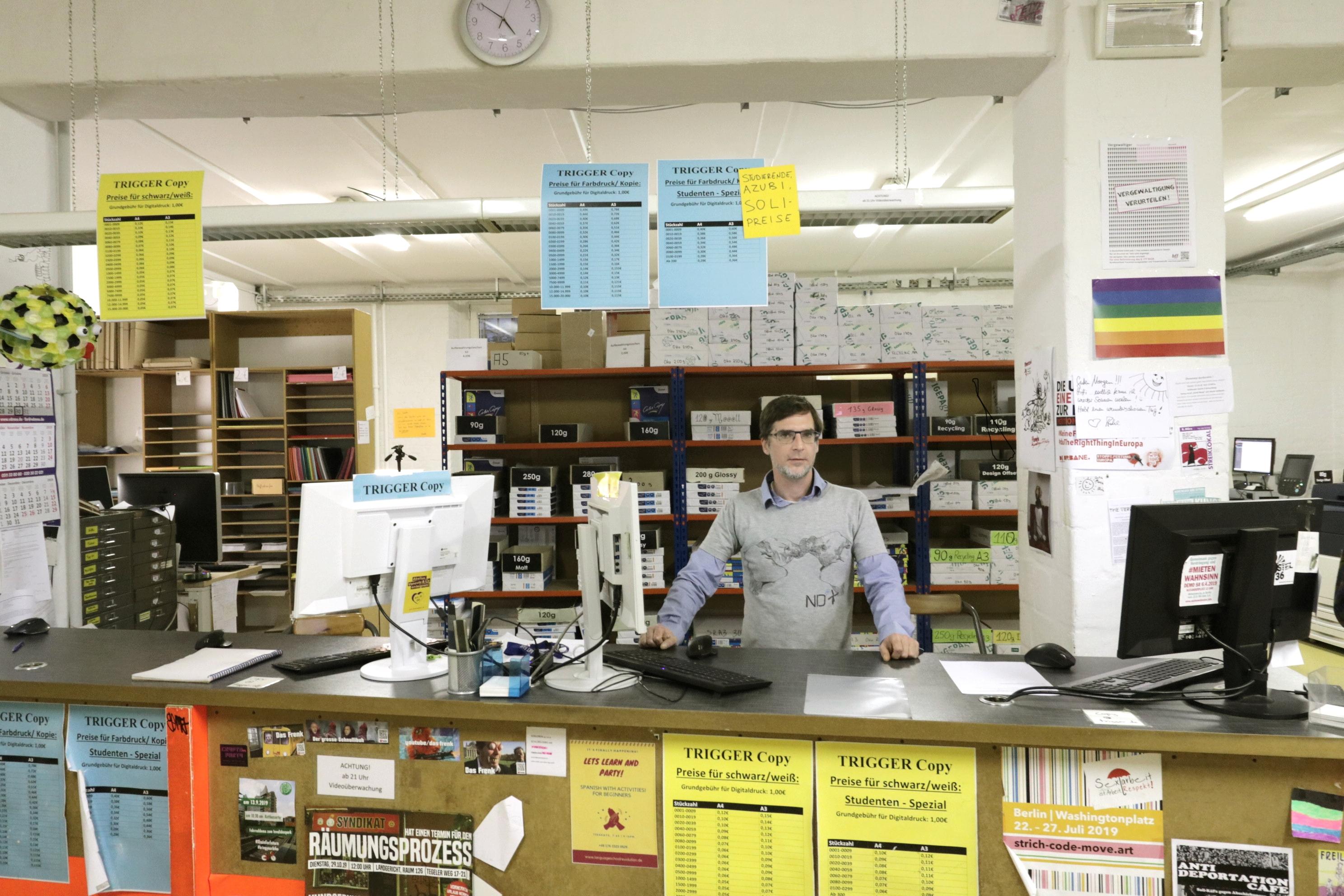 Professional printing at the touch of a button.
For institutions, firms, foundations, museums, theatres, parties, publishers, companies, etc. we offer a quiet all round service in terms of printing, copying, copying and printing services. It is also no problem to duplicate the files or to scan, scan in, or digitise documents.
In science, art, public relations, film and theatre, at festivals and congresses, we support you with just in time production of documents, bound in the form of brochures, files, hardcovers, soft bindings, from perfect bindings to genuine paperbacks and catalogues in printed soft covers.
Digital printing and printing service provider, congress and trade fair documents
Through our long working hours, we can always provide you with a well-trained staff in an appealing form on time, current tasks, etc.
Just ask us as a metropolitan and capital service provider for print and copy and bind in best form. We offer you reliable solutions.
TO GO: Printing pocket books - print publishing service, edition 1, print on demand Berlin, softcover bindings
Since 2019 we are again book manufacturers in Berlin. In addition to professional booklet production in black and white and in color,
 we now use innovative softcover book production methods to bring the work of our audience into a bound and contemporary form. 
After print on demand, we now use the classic book binding in miniature for the production of paperbacks. We also handle an English brochure (with two cover pages)
 with our semi-automatic machines. We can produce from the first edition to the last.
TRIGGER PRINT, a story of joy in everything that goes on paper and comes from data.
TRIGGER Berlin was first created in 1990 in Pohlstraße on Potsdamer Straße in the time of artistic transition right after the fall of the Berlin Wall. The city had a jumble
 of romantic messes. The Berliners did not manage to sort themselves out immediately. Small could grow big while Big fell down. Where Berlin officially was considered
 dead, the heart began to beat violently. Although the adventure room Berlin retained its two chambers East and West, but began altogether to thump loudly.
The opening hours at TRIGGER therefore started at two o'clock at night. The work of the creative people actually took place until late into the night. Then it went up to the
 Kumpelnest 3000th Or even into the Potsdam Agreement. Or from there to the Latin Quarter, even if it was then officially closed. Or somewhere else. Nocturnal opening
 hours were not an ideology for night owls, the cash register rang until late into the night. A year later there was also TRIGGER at the Reichstag in the middle of the
 restricted area.
Duplication, diversity very practical. Copy Shop
A lot of things ran side by side, it met at TRIGGER, which otherwise would never have happened. If the stage of the city had a back of documents, then what was going
through the machines at TRIGGER would have been a glimpse into the original perspective. But privacy, discretion is not an invention today, it already existed, at least
 at TRIGGER.

In such a diversity comes to our audience today. And, if there is something we are proud of, it is our audience.
But documents, diploma theses, scientific brochures, flyers, bills, land contracts, event booklets, expert reports, exhibition catalogs and menus were always half the battle.
The science, the art, the passion, the commitment, networked neighborhoods and the bohemian self and their revolutions have always gifted us with the world of painting,
 film, literature, graphics, politics, graphic design, day, neighborhood and graffiti. Such work needs the expression on paper and a bond. Each strategy includes a manuscript.
 And that still has to be printed.
Copyart, Copier, Printer, Art and Bohemian
Special feats get our Canon Colorlaser copying when Nikolaus Utermöhlen whispered the color laser machines and fed them.
 Nicholas was very calm, controlled, concentrated and laconic. The clearer you could hear the technical hiss of drum and laser. The room then had the strange 
quiet of a casino of art. He was particularly fond of using the multi-leaf function to shake out images from these devices that the copiers had never seen before. 
NIkolaus was a magician of CopyArt in the early 90s.
There was neither Internet, Photoshop, nor Indesign. To report would be - from there - many, many beautiful moments
with artists, scientists, reporters, photographers, neighbors, and avant-gardists who made us happy and happy as we read the data
 and handle the paper.
TRIGGER Printer Berlin
TRIGGER printer Berlin soon has a history of more than 30 years and it would be a lot to tell. The fall of the wall brings this to mind. TRIGGER has also moved 
through the city a number of times, sometimes bigger, sometimes smaller.
Now you will find us, large and full of possibilities for people of text and image, in the Dresdener Straße 11 in SO 36, Kreuzberg, 10999 Berlin.
Copyshop Berlin Open on Sundays, open, digital printing in Kreuzberg SO36, almost halfway through, opening hours 24.00, at the Kotti, copying,
 printing works near Oranienstraße.
Content: TRIGGER Berlin Copy TRIGGER Kreuzberg ✓ copytrigger ✓ Copy shop Berlin 24 hours copy shop Dresdener Strasse Berlin printing house Kreuzberg ✓ Printers Berlin